Pause'n'Rewind (2011)

The Unkool Hillbillies are herald by many as one of the koolest bands out there.That said "Pause N Rewind"(their 4th album) backs up all the fuss that is said about them.This is one cookin' album,15 tracks in all from straight-up rock n roll to blues to rockabilly and even surf.The boys even bring back Karin Johansson to sing on 4 tracks.Highlights include "Blisters","Hillbilly Twist"and"Pause N Rewind" it's all good.If you aren't familiar with The Unkool Hillbillies this is a great starting point.Get unkool!Recommended Johnny Slam Slamsreviews.blogspot.com, Canada

At the end of 2011, the joyful Uppsala band released their fourth CD and The Unkool Hillbillies is a band I like more and more. I have unfortunately not seen them live yet, but I make sure I will.
We get 15 tracks this time, in the same tough style as earlier. Piano-rocker and vocalist Anders Umegård has written 11 of the songs, including the final track which is recorded live a few years back at the club Stampen in Stockholm; frantic rock'n'roll with pumping piano, harmonica and saxophone. Karin Johansson, who made a great success on the previous CD, is given more room this time and she really delivers rocking vocals on four tracks. One that really stands out is Call Me Up.
The CD is mighty tough produced with very good sound, clear and upfront vocals in a powerful mix. A total of 14 musician contribute - most of the guest musicians are also performing live with the band on occasion.
Of the cover songs, Send Me Some Loving (Little Richard am.o) stands out in a powerful version with heavy groove. It rocks good with twanging guitar and intense piano. But Umegård writes so many good songs that he would manage as well without the covers.
A smash album with gem songs, this is! Thomas Oyen ROCK Magazine, Norway

The Unkool Hillbillies are back with a fresh plate that was issued 2011 of their own record label UNKOOL Music, now in 2012 they are out on tour in Sweden and in other countries, latley in Belgium and Holland. "Pause 'n' Rewind "is the title of this Stockholm-based band latest album, which contains 15 songs , 12 original tunes plus Carl Perkins' "Gone, Gone, Gone", Little Richards "Send Me Some Loving", and Bull Moose Jackson's "Watch My Signals". Unlike "Evil Times" contains "Pause'n' Rewind, "just one live track, recorded on Stampen. Karin Johansson, who has participated in, among others. the last album "Evil Times" with the radio hit "You're The One" is also included here and run a few songs, with the success of the previous album, it's a really good decision to have with Karin again. The whole album seems to be filled by various sets during shooting, total is not less than twelve musicians and singers involved including original members understood. We have among others. hear the American music producer Darrin Mazzilli run, He also has provided text for the song "Hangover". Even the band's former drummer Jasenko Kumric has taken place behind the snare drum to a song. The music does not differ far from "Evil Times" with piano-based rock 'n' role with influences from rockabilly, swing, blues, surf, rhythm & blues and country which is understandable, why change something that works so damn well together and lifts the music to new heights? Something new on the influence of hand, two surf-inspired songs with names like "Rauchan" and "Hillbilly Twist", "Rauchan" goes against the oriental direction, might be due to the name for a Kazakhstan princess. But they still keep the clear surf sound. "Hillbilly Twist" is a more surf-rock 'n' Roller, nice piano with sax that swings. The red thread that runs through the whole disc is that you should stop and reflect, have not so damn busy, stop and enjoy! Anders Umegård who has written almost all of all the songs have been caught up in a good way, listen only on the title track "Pause'n'Rewind" and you will understand what I rave about. Finally, I note that The Unkool Hillbillies is a real &%# great live band, them down the stage and give everything so sweat dizzy, this is a band you MUST see live! But thankfully there's CDs with them to brighten up any occasion, they have also captured their energy on disc, no one has the opportunity to throw in The Unkool Hillbillies in the player and enjoy, certainly it's not exactly like a live performance, but more than this will probably not. www.badasslifestyle.se

Here's a Swedish piano led Rock'n'Roll outfit with a new 15 song CD - 12 originals plus the Little Richard tune "Send Me Some Loving", Carl Perkins' "Gone, Gone, Gone" and Bull Moose Jackson's "Watch My Signals". They've come a long way, and now have a fine new Female singer, Karin Johansson, who fronts f of the tunes and sings backup. Piano man Anders Umegård is the main singer and songwriter, and judging from the different guitar players and bass players, the recording may span some lineup changes in the band [guest musicians!] Harp player Richard Andersson sings a couple of tunes too. It's good Rock'n'Roll, and I enjoyed hearing them again! They mix tempos as well, and feature Sax. Lyrics are included in the booklet. One tune "Rauchan" is a cool instrumental. I beleive the title translates as "Smokin´". "Hangover" (written by Darrin Mazzilli who sings backup) has a nice New Orleans groove. Marc Bristol, Blue Suede News, USA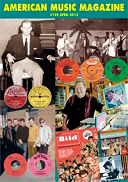 The latest release from The Unkool Hillbillies. This is a rock'n'roll album, influenced by rhythm&blues. The band is fronted by the brilliant rock'n'roll pianist and singer Anders Umegård. He has also written eleven of the albums fifteen tracks. The other musicians on this CD are the band members along with guest artists. Richard Andersson has a good sound and feel in his harmonica. He also handles the lead vocals on a couple of tracks. Stefan Asplund and Robert Karlsson are both awesome guitar player. Otto Gryttings saxophone playing is great. Karin Johansson handles the lead song on four tracks, where she really impresses with her voice. My favourite tracks on this CD are "Hangover", a sharp rock'n'roll song, with Lousiana touch, written by American Darrin Mazzilli, "Bad Investment Blues" and "Window View" with vocals by Karin Johansson. The surf oriented tracks "Rauchan" and "Hillbilly Twist" with both sax- and harmonica solos. They have also succeeded well with the cover versions of "Send Me some Loving" and Carl Perkins' "Gone Gone Gone". Unkool Hillbillies have delivered an awesome rock'n'roll album. Kenneth Olsson, American Music Magazine, Sweden
With all the exuberance of a vintage rock 'n' roll movie, this suave Swedish combo embraces classic rockabilly, r&b and pop/rock styles, turning out songs that are clever, quirky and that never lose touch with the roots. Lead vocalist and piano man Anders Umegard's Euro-billy styling is the ideal front for lyrically fresh songs delivered with true-to-the-genre infectiousness. He gets the occasional breather by way of Karin Johanssen who belts retro-pop like a Blondie from a bygone era. Top tracks include "Ding Ring-A-Ding Ding", "Call Me Up" and the title tune. Duane Verth, RootsMusicReport, USA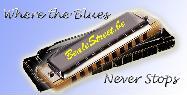 "Watch My Signals"... Our advice at the time of the review of the album "Evil Times" (Roots Ville / June 2009) [that every promotor should go ahead and book The Unkool Hillbillies of the next festival(s)] was taken into account. The band from Sweden has become a must for every festival and Rockin Around Turnhour appearently belevie in that as becayse The Unkool Hillbillies are after all guesting 6-8 April (more info www.grasshopper.be)
For the sequel "Pause 'n' Rewind 'I can be brief: The Unkool Hillbillies Keeps Rockin'. The opening track "Ding Ring - A Ding Ding" is the perfect party-cracker, all [other] roots / rockabilly records are just to throw out the window as this will launch a forty-minute "Hillbilly Twist"- party where the guest Otto Gryting the (sax) may steal the show on Hangover, and we are happy to discuss his (swinging) invitations ...Spend Some Time With Me and Send Me Some Loving. The party is still enjoyable as "Little" Karin Johansson makes her debut, Bad Investment Blues, Window View, Call Me Up and Blisters because rock fabolously and the instrumental "Rauchan" proves Unkool Hillbillies in the better (surf / Mexican) neighborhood where only Spotnicks and the Ventures have touch for decades. "One More Time": the Unkool Hillbillies, 'Pause' n 'Rewind (& repeat) .... and an incredible live act! (SWA) Beale Street, Belgium
Fourth album from this Swedish combo since 2003. The lineup remains the same: Anders Umegård, Richard Andersson, Stefan Asplund, Mats Brobäck and Raimo Oxhammar, they are guested by saxophonis Otto Gryting and Singer Karin Johansson (4 tracks), Anders and Richard are handling the vocals on the remaining. The extra saxophone and piano make up a pleasant New Orleans-feeling (Hangover) that rocks. Anders is also highlighting some Moon Mullican [abilities] on some tracks. As for the song, which consist mainly of new compositions, the covers (Send Me Some Loving faster than the original and Gone Gone Gone by Carl Perkins) remain few. The Unkool Hillbillies have a their own niche with melodic rock'n'roll rather than unbridled rockabilly, which makes them very interesting, the vein hardly being operated today. They also make some forays into instrumental territory (Rauchan, with a Shadows feel, and Hillbilly Twist, more boogie than twist) and into country folk. Highights are the two frantic opening and closing tracks, Ding Ring-A-Ding Ding and One More Time [the latter] recorded live, and Watch My Signals, with resemblances of Blue Suede Shoes in lyrics and melody, But the rest is not bad either. The CD is highly recommended. Le Cri du Coyote, France

The band mix rock'n'roll, rockabilly and jiving rhythm & blues into a characteristic sound but also gained the band some good success all over Europe and the US.
Fun is the number one ingredient for this band and on "Hangover" a song written by Darrin Mazzilli you get a great idea what fun means for these guys. Mazzilli wrote songs fro the band before, but now returns not only with a hell of a tune , but also contributes on some tracks with backing vocals. Followed by the equal good "Spend Some Time With Me" the tone is set for fifteen tracks full of red-hot Rockabilly and Rock and Roll. On "Best Investment Blues" we hear guest vocalist Karin Johansson for the first time on this record. Karin Johansson is another returning contributor to the music of The Unkool Hillbillies. For "Window View" the band worked again with Karin who delivers a more or less country –like tune and with "Hillbilly Twist" the band goes into surf inspired territory. Rauchan is another such a tune. With its odd beat and origins in Kazakhstan the band certainly are crossing more then musical boundaries.
Pause and Rewind unquestionably is an album for those of you who like Rockabilly and related genres. Energetic music and unkool but a must have in you collection! Go get it now on their website or in your favourite Rockabilly Shop. Mr Blue Boogie Billybop, Belgium
Ring-Ding-A-Ding rocks nice, real piano rock'n'roll. Hangover is a midtempo shuffle rocker, written by American Darrin Mazzilli, in more of a New Orleans style. Nice, jump and jive to Spend Some Time With Me and enjoy Karin [Johansson] on Bad Investment Blues, which simply is a fantastic rock'n'roll song. I sense a little bit of Long Tall Ernie in Pause'n'Rewind, before the Swedish beauty [Karin] delivers a song with a steady Jerry Lee stomp: Window View. If you feel an irresistable urge to sing along, you are lucky, as the CD booklet contains the lyrics to all of the original songs, written by Anders [Umegård] who just myself values songs with a message. We don't get the lyrics to the cover songs though, Gone Gone Gone and Send Me Some Loving by Carl Perkins and Little Richard respectively. Send Me Some Loving has a touch of 70's revival, which to me sounds too modern, but that is a matter of taste. Call Me Up reminds me of Dave Edmunds and it's the best track on this disc. A strong musical performance by Karin and The Unkool Hillbillies. That's the kind of song you'd expect to hear on the radio, a hit song. That the band can do instrumentals is showcased in Rauchan. Well, what kind of instrumental is that? Spot-no-nicks, not Ventures, not Shadows and surf... but simply a great guitar instrumental with Mexican influences. Everlasting Love is not a blues, but a nice rock song with some flavour of balkan music, there's feeling here. We continue to jive with Watch My Signals. [Followed by] An instrumental piano / guitar rocker Hillbilly Twist. Gone Gone Gone is a swinging harmonica-driven rocker that will result in flying skirts. Cool. Blisters sounds a bit more modern, and here again, the blond singer [Karin] delivers an impressive effort. Also this song is suitable to dance to. Even if you would be sweating after all dancing, you'll still get no rest as the album final track is a high-speed live recorded One More time. In conclusion, a great dance album. It's not a pure rockabilly album. I would not call ut authentic 50's, all the roots are obvious. It sounds more modern than 1950's. Nor is it just one style, vintage, or revival, it's a mix, with emphasis on piano, sax and harmonica. In fact it's more Louisiana / New Orleans-inspired rock'n'roll. All who like pumping piano or dancing rock'n'roll this is for you. If you then decide to Pause'n'Rewind or simply press "repeat", is up to you. Henry Smith Boppin Around, Holland
This Swedish group, whose lineup is unchanged since their third CD [this is the fourth] and they keep their style consistent. Instead of choosing the path of common rockabilly or that, which is currently very popular in Great Britian, rockin'n'jumping r'n'b, they remain a niche especially in melodic rock and roll, but with two raids of instrumental and country folk. The extra sax of Otto Gryting often often moves the song into New Orleans territory. The songs are mainly originals, with only a few covers. Outstanding tracks are the opening and closing through "Ding Ring A Ding Ding" and "One More Time" along with "Watch My Signals", strongly inspired by "Blue Suede Shoes". BB Sur la Route de Memphis 106, France
---
Evil Times (2009)
This is one of those cds which make you happy, make you dance, make you smile and move hips. If you are big fan of hillbilly, don't be mislead, this cd has nothing to do with hillbilly itself!
It says it contains 18 Red Hot Tracks, and they are not lying! It really has 18 tracks! And all of them are brilliant hot swinging stuff; with add of harmonica and piano, slowing down from time to time with some rythm and blues compositions. 13 songs on this recording are originals. Also some "guest-writer" must be mentioned - Darrin Mazzilini, American professonal songwriter, who came to Sweden and was so amazed by the band that under deep impression he created some songs (two of which took place on "Evil Times") for them.
What else, besides the professional work of musicians and pleasant voices of lead singers (Andres and Richard), makes this cd so special? A Girl. Guest (besides the bunch of musicians who were invited to play here and there) singer for whole three songs - Karin Johansson – makes rhythm and blues sound hot and spicy! Great voice and amazing fitting to the band… or is it the band so professional to back up so neatly? Wonderful!
To make the picture full, I have to add that there are three live recordings (well, one of them is a pure piano solo) and the last one - a bonus track to give you extra energy and remind you again how The Unkool Hillbilies could be cool! Give them a chance and you will enjoy it as much as I did!

Kitty, www.rockabillybash.com

From Sweden comes the Unkool Hillbillies! A band that has proven to be a great entertaining value in bars, pubs, honky tonks and assorted places! For the new album "Evil Times" we had to wait about four years, but believe me it was worth every minute of it!
The sound changed a little bit as does the line-up but the Unkool hillbillies are still rocking away the time with their brilliant mix of rock and roll, Jive, rockabilly and swing. Eighteen tracks full of rockabilly sins fills the new Evil Times! With a majority of these eighteen tracks self-penned the band presents a truly original album here! Interesting tunes can be found in Just your fool, Another Day Another Lie and almost every other track on the album. Special attention goes out to the tribute to Linda Lee, the unnoticed and underrated actress who once performed supergirl.
To emphasize that the Unkool Hillbillies are fore sure a live band, they add tree live tracks to the record as well as an extra bonus track! Cool for sure.

Mr Blue Boogie, www.billybop.be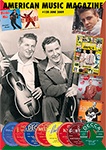 These guys must be THE coolest guys around, as they dare to define themselves as rural hillbillies that are un-kool... That is a different disucssion, but the music itself is cool and there is one main rule for them: party. It must be close to ten albums for this band and through the years they gained experience and confidence that really shine through on all the tracks. The pianist Anders Umegård is the creator of eight of the eighteen tracks and is the main force behind this group. The harmonica player Richard Andersson composed three of the songs and one of them -Evil Times- is also the name of the CD and on that one he also handles the vocals, fabulous job. Karin Johansson from Dubbelgänget handles the vocals on three tracks It Hurts Me Too, You're The One and Dirty and of those three I gotta favour You're The One where Karin's voice really really stands out. The opening track Dangling On A String, written by Darrin Mazzilli, stand out as the best track of this CD and it would sure have fit Jerry Lee in his prime days, so these unkool hillbillies have all possibilities to climb the charts with this one. Darrin also wrote Jump Start My Heart but it has not quite the same energy.
This is an outstanding CD that must fit very well in car on the summer cruisings. Buy - buy - buy! Jan Andersson, American Music Magazine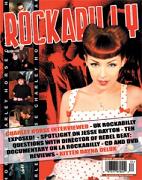 True, many are the rockers sharing credit on this vivacious Swedish refreshing of vintage rock'n'roll and r&b. But Anders Umegard (vocals/piano) and Richard Andersson (vocals/harmonica) are the core, dividing most vocal and songwriting responsibilities.
Yet another step forward for a band already distinguished. Recommended Blisters (live), Sarah. The Rockabilly Magazine, USA

The Unkool Hillbillies is a misleading name, since it is not a matter of hillbilly music, instead it's rough rock'n'roll and rhythm&blues, steadily rooted in the 50's. The CD contains 18 tracks, of which three are live recordings. The piano-player and vocalist Anders Umegård contributes with as many as eight songs, while harmonica player and vocalist Richard Andersson delivers three. Two are written especially for the band by the American Darrin Mazzilli, whose Dangling on a string could just as well have been written for Jerry Lee at SUN. The remaining five tracks are covers, including Huey Piano Smith's I aint mad at you (Roberta), Little Walter's Just Your Fool, Rock This Joint (in a pre-Haley version) and Elmore James It hurts me too.
It is raw and wild in high tempo, with Jerry Lee inspired piano, twanging guitar and bluesy harmonica. The six songs that are enforced with saxophone are even more spicy. Karin Johansson makes a guest apperance as vocalist on three songs, and she does a great job. Her and the band's version of It hurts me too is one of the best tracks. The title track Evil times, Dangling on a string, Rock this joint and Another day, Another lie are also strong cuts. But better yet are the three live tracks Tore Up, Blisters and Stampen boogie. An entirely excellent Swedish album of hard swinging music. Mats Karlsson, Jeffersson
It is now six years since last time we wrote about this band orinating from Uppsala [Sweden]. (The 2005-CD Unkool&Proud was released when ROCK was down). Compared with Right To Rumble this ia a much more professional production. We are still facing piano rock'n'roll, but the guitar is now more dominant with new guitarist Sefan Asplund and The Unkool Hillbillies is now much harder than for example Fabulous Thunderbirds have been in many years. This is blues rock, boogie and rock'n'roll performed in the way we like the best!
We get 18 tracks, mixed with a couple of cover-songs, for example a hard-driving version of I Aint Mad At You (Smith, Vincent) and a fast live-version of Hank Ballards's Tore Up, recorded at their home venue Stampen in Stockholm. Elmore James' It Hurts Me Too is normally worn-out, but with the help of female guest singer Karin Johansson are they able too bring it to new limits. And the suggestive boogie driving in Just Your Fool with its cool guitar solo is one of many highlights. Party! www.rockmag.info
It takes only 15 seconds of the CD's opening track too realize that Anders Umegård masters Jerry Lee Lewis to full extent. He uses the same efficient kick-start as Jerry Lee has used hundreds of times. And the stylish efficency continues in 18 tracks, where three are live recordings and three with Karin Johansson on the microphone. Otherwise it is Anders Umegård or Richard Andersson who handles the vocals in The Unkool Hillbillies
I have never seen this band on stage, but I am quite sure what expect of a night with them. Fun, hard-driving rock'n'roll, rumbling and music that feels familar regardless if the songs are new or not. Here are a few songs I recognize since before, but the songs of Umegård and Andersson sounds just as genuine and as the others, even if they are composed only a month ago.
Umegård bangs like the devil himself on the piano and Andersson manages to get his harmonicas to sound like a smoking fire sirene. These guys are amazing, as are their fellow musicians. So I'd love too see this band on stage.
But my reflections don't matter, because all in all, this is an album to have fun with on every party! www.rootsy.nu

The Unkool Hillbillies is a one-of-a-kind rock 'n' roll band that really rocks. They mix fervent 50's rock'n'roll/blues/rythm&blues. Evil Times contains 18 red hot tracks and proves again that this is one of Swedens very finest rock'n'roll bands. 18 rockin tracks that makes your feet slide through the the floor and your hops moving, put away the furniture and prepare for party!
The CD has a guest singer Karin Johansson who makes a really strng performance on two of the songs. She has an amazing voice, that fits very well with Unkool Hillbillies.
If you have missed this CD, then it is about time to order one. You will NOT be disappointed! www.badasslifestyle.se
There's nothing un-cool about this brand new release. A real HOT rockin' band from Sweden. Rock'n'Roll, Rockabilly & Rhythm 'n' Blues. Their best and most varied album yet! 18 great tracks and a very kool digi-pak design. rootscd.com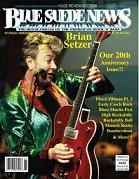 The Unkool Hillbillies are a powerful Swedish roots band that uses anything but Hillbilly to get you on the dance floor. Forceful Rock'n'Roll with Blues harp, pounding piano and an occasional wailing saxophone - Blues, Jumpin' Swing and Rockabilly with a chunck of Nick Lowe and Dave Edmunds style Roots Rock throughout the set come rolling your way full blas.
Two sessions produced a mostly original 18 song album that bursts with energy. There's the boogying I'll Do My Best, the hot Dangling On A String, and the Texas Blues style Sarah. Wake Up does just that and Just Your Fool is a fine Little Walter cover. Rock This Joint is a pure Jump Blues. The only slow rendition here is sung by welcome female lead Karin (Elmore James It Hurts Me Too" and she puts the firee in the fast boogie You're The One nd the sizzling original Dirty Man - think George Thorogood.
Three numbers are live custs and have the Unkool Hillbillies torm through Tore Up (Hank Ballars, Sleey LaBeef) and a delightful solo-piano boogie called "Stampen Boogie" The musicians are fine (love the piano!), singers okay, the sound a little chaotic and the mix could be improved upon - still Evil Times is fun and energetic all the way. Blue Suede News, USA
Regardless where you are in the country, if you in any way or form are involved in a roots/blues festival or venue, and is dedicated to "heart and soul to which you can dance and shout" - we advise you to as soon as possible contact the Unkool The hillbillies. Sublime rock & roll, jiving rockabilly and rhythm and blues with a boogie woogie piano, mean harmonica playing and solid guitars ... just an address info@unkool.se.
Richard Andersson (A Whole Lotta Harps & lead vocals), Anders Umegård (lead vocals, acoustic piano or Roland FP3), Stefan Asplund (Fender Telecaster), Mats Brobäck (cherry red drumkit) Oxhammar Raimo (elextric bass double bass) form sice 2002 The Unkool hillbillies and are now with the album "Evil Times, and the willing help of Roots together with Abba, Volvo, Ikea, H&M and knäckebröt included among Sweden's most successful export products. Well up in the past with the albums "Right to Rumble" ('03) and "Unkool and Proud" ('05), and now with the album "Evil Times", the temperature in music bars and dance halls will rise to turn them into saunas.
Overall 18 red hot tracks with professional American songwriter Darrin Mazzilli behind the opening track Dangling on a String and Jump Start My Heart and the beautiful covers I'm Aint Mad at You (H. Smith / J. Vincent), Just Your Fool (W. Jacobs) stand out but of among the in general highly excellent content on this disc with slighly Blasters-feel. Wake up ... let's rock & roll, the Swedes shout and Sarah, I'll Do My Best and Linda Lee clearyly give the message, the pounding piano and swinging blues harp and electric guitar are significant for the sound of the band. Rock This Joint says it and deeply inhale the message because the bonus / live tracks Tore Up, Blisters, stampen Boogie and Tell Me where the band are enforced with saxophone players Gustaf Hagelberg and Otto Gryting, will leave you breathless.
If you are not completely smashed-down by these cool cats from the High North then you will be really knocked-out by the outstanding Karin Johansson with her fantastic versions of Etta James' It Hurts Me Too and the Unkool hillbillies originals You're the One and Dirty. Hey - if you ave not already ordered this gem, then go directly to to CD Baby or Roots CD and order your own copy now.....( SWA) RootsVille, Belgium
Third and plentyful (18 tracks, including 3 live-recordings) album from the Swedish group featureing Anders Umegård (vcl, pno) Richard Andersson (vcl, hca) Stefan Asplund (gtr) Mats Brobåck (drums) Raimo Oxhammar (bass) and Karin Johansson (vcl on 3 tracks). Not heard the two first, I have no not anything to compare with. Anyway, this one great selection of rockin, jumpin R&B (Just your fool, Rock This joint), Swamp blues (It hurts me too), Boogie (Stampen boogie), another of Tex (Blisters) and several of Rock'n'roll (You're The one) or Louisianian in Jerry Lee Lewis style (Dangling one A string, Another day Another Lie, Evil times, Tore up) or saucy New Orleans (Sarah, Wake up, I Ain't Mad At you, I'll Do My Best), which justifie their presence in this heading, thanks to the piano of Anders and with the two saxes, invited for the circumstance.
One can thus say that they are uneffected by Rockabilly trends or recent r&b, instead they define their own style of R&R, yet loyal to the tradition, and of the best quality, divided between many [different] interpretations and compositions. They stand out. ['Top Notch'] Le Cri De Coyote, France
Following in thee style of 'Right To Rumble' (see NDT 245) and 'Unkool and Proud!' (NDT 271) the all-action Unkool Hillbillies unleash a further collection of explosive piano-led rock'n'roll.
The CD gets off to a flying start with Dangling On A String - a number specially written for the band by California songwriter Darrin Mazzilli following a meeting with them while on a visit to Sweden. Somewhat akin to Honky Tonkin Hardwood Floor, Dangling On A String with its tremendous piano and sax breaks never lets up from start to finish. Darrin's other tailor-made composition for the album, Jump Start My Heart, again captures the mood of the band and wherer theey are coming from with another slice of unrestrained rock'n'roll.
More of the same follows with the band's lively if somewhat cavalier versions of I Aint Mad At You and Rock This Joint further enhance the CD. Guest singer Karin Johansson is the surprise package with a stunning version of Elmore James' It Hurts Me Too. Karin also comes on strong with a rip-roaring You're The One and follows with the strolling Dirty Man. According to the sleeve notes, Karin had a rock'n'roll CD out in Sweden a few years ago. If this performance is anything to go by it must have been quite something.
Evil Times is an enjoyable CD, three tracks recorded after hours in the Unkool's natural habitat, the Stampen rhythm&blues pub in Stockholm. Original country rock number Blister's, the classic Tore Up and Anders Umegard's encore number, Stampen Boogie, bring the CD to a rousing conclusion. Now Dig This, UK
After the CD's Right To Rumble (2003) Unkool And Proud (2005) [here] is the third CD from this Swedish band with the rather miscrediting name The Unkool hillbillies. br However, it is one hundred percent a hard hittin 'rock' n 'roll band. The pumping piano is the heart of the occupation and to variation 'supplemented' with a dirty mouth-harp and a fat saxsound, as well as the electric guitar. We hear 18 songs where 13 are new, original compositions to explore.
Pianist Anders Umegård and Richard Andersson bluesharpist names as core members with the vocals for their account and then you get songs like the up-tempo rocker with piano and saxsolo Dangling On A String (the opening number and immediately the second best song of the CD ), the mid-tempo Stroller Another Day Another Lie, guitar rocker Wake Up, with the bluesy mouth-harp interpreted Just Your Fool, to the Chuck Berry sound Linda Lee (Supergirl that is!), and more.
In their previous two CDs the downside was the lack of variety and we can see that the band has overcome this weakness, although the songs that varies most is not necessarily the strongest. The melodic sounding I'll Do My Bestand the slower than the original executed cover Rock This Joint in my opinion.
Maybe they had more than enough of 'straight' as included the the energetic and live-performnace Tore Up. The Sleepy LaBeef [Hank Ballard] cover is again then the best cover of the album it is more than overwhelming. The second live track on the CD is very melodic sounding Blisters, an original, that would have been an hit in the 80s thanks to a catchy melody and an enjoyable saxsound. The third and final live track is the excellent-sounding real boogie-woogie Boogie smash, named after their home venue Stampen.
Far at the end of the album we are treated to a pleasant surprise. In addition to the vocalists comes then the Swedish female singer Karin Johnsson forward. The core of the band previously served as producer for a previous album of that singer in a Swedish-language CD that achieved even national radio airplay. That they have now asked her can I completely understand. That girl has a great great voice! She performs the bluesy It Hurts Me Too really outstanding and the also bluesy Dirty is damn sexy, but my favorite (and also my favorite of the whole album) is the incredibly nice rocker You're The One. I love that voice! Without doubt this is the best album of the band.
Yes, to be uncool is cool! Frans van Dongen, Boppin Around
Don't let the name of the band mislead you: this band is anything but un-cool and their music owns more to New Orleans and Chicago than to the Grand Ole Opry. Featuring the pounding piano of Anders Umegarg and the fantastic blues harp of Richard Andersson (and both sing), a mean guitar and a solid rhythm section, this 18 song (13 originals) album is a killer from start to finish.
It's a mix of Chicago Blues (Little Walter's Just Your Fool) jumpin' blues with an early rock'n'roll edge (Rock This Joint), Jerry Lee Lewis piano (Dangling On A String), New Orleans rhythm'n'blues featuring juicy saxes (Sarah), good old boogie woogie (Stampen Boogie) and some Blasters influences (Wake Up, Evil Times). They add diversity with three songs recorded live (Tore Up, Blisters and Stampen Boogie) and guest singer Karin Johansson is featured on three tunes including Elmore James' It Hurts Me Too. After all this, I'm not sure you'll continue to call them unkool! JumpingFrom6to6.com
This is the third and generous (18 tracks, including 3 live) album of the band including Ander sUmegrd (voc, pno), Richard Andersson (voc, hca), Stefan Asplund (el.guitar), Mats Brobäck (drums), Raimo Oxhammar (bs), and the outstanding vocalists Karin Johansson on three tracks. Not knowint the first two [albums] I cannot tell if they have remained in the same line or not. In any case, it is a fine example of a mixture of a dose of Rockin' Jumpin' Rhythm&Blues (Just Your Fool, Rock This Joint), a Swamp bluesy ballad (It Hurts Me Too), e spoonful Boogie (Stampen Booge), a shot of Tex-mex (Blisters) and several portions of furious rock'n'roll (You're The One) or Lousiana Jerry Lee Lewis (Dangling On A String, Another Day Another Lie, Evil Times, Tore Up) or New Orleans sauce (Sarah, Wake Up, I'm Not Mad At You, I'll Do My Best), thanks to Ander's piano and two invited saxes, we declare that they stand out from the trends of Rockabilly and rhythm&blues, defining a classic Rock'n'roll steadily rooted and with many fine compositions. Top notch. Blues mag, France

---
Unkool & Proud (2005)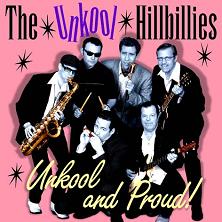 Sure, they're well able to ressurect Roy Brown-style R&B and primordial Rock'n'Roll for post-Millennial ears. They endeavor famously with magnetic sparkle and devil-be-damned abandon. The wild guitar is joined by an indomitable rhythm section, wailing saxes and pounding piano. And the several singers keep things fresh. But as hot as the playing is, there's something more important at work here. The emotional bond between musicians and music is palpable at each turn, a spiritual oneness that defies pretension. Heart and soul to which you can dance and shout.
Rockabilly Magazine
Why these six Swedes call themselves unkool is hard to get when you look at the cover and listen to this CD. They look sharp and sound way cool. Jump blues and energetic Swing music with a touch of Teddy Boy Rock'n'Roll is what they do and they rock up a storm on this release. Roy Brown's "Black Diamond" from the Jump Blues reportoire, some Rock'n'Rolland Rockabilly flavoured numbers like Gene Vincent's "Hold Me, Hug Me Rock Me" and "Wear My Ring" and a mean and hard Bluesy version of "Matchbox" make up the familiar tunes. Half of the 14 numbers were written by main lead singer and piano pounder Anders Umegard, Harmonica Wiz and singer Richard Andersson contributed with the Bluesy "Dirty". The fast piano rock'n'roll "Love Me If You Want" reminds me of British piano rocker Freddy "Fingers" Lee, "It Hurts Me Too" is a nice blues ballad, "One Bad Stud" a cool saxophone driven rocker. "Rap is Crap" is the new "I Hate The Disco", "throw away my radio" [from the refrain of 'Rap is crap'] is how many of us feel. Fine CD. Blue Suede News
"Unkool and Proud!" is a brand new CD by this Swedish band. This CD contains up-tempo Rock'n'Roll, Rockin' Blues, Swing, Jive, Boogie Woogie and Rockabilly music. The sound is professional and the songs are well played. The dominating addition of blues harps, saxophone and piano are very important for their swinging sound. The Unkool Hillbillies made their own rockin' versions out of rockabilly classics like "Matchbox", "Hold Me, Hug Me, Rock Me" and an up-tempo version from "Wear My Ring". Roy Brown's "Black Diamond" is a swinging blues-rocker that fits perfectly the sound of this band. "One Bad Stud", another savage rocker, and "It Hurts Me Too", a bluesy ballad, are both sung by Richard Andersson, who also plays the harmonica. The 8 other tracks on this CD are all original Unkool Hillbillie-songs, mostly written by singer and piano player Anders Umegard. Especially on "Love Me If You Want" he demonstrates his talent with his savage piano playing style. A real good CD, professionally played with a lot of variation. www.billybop.be
Hold on tight, cats, or else these Swedish buddies will rock your socks off! This is the band's second CD. The first one, "Right To Rumble!", was issued on Racous Records on April-2003. The album was basically recorded during one intense weekend. The spontaneity and improvisation abilities of the Unkool Hillbillies are present throughout every song, but particularly shine through on the instrumental "Rooster Shaking Boogie", which was accidentally recorded (and composed) during a coffee-break jam.
While the previous CD was a bone-breaking and explosive set of rock 'n' roll, this new one also shows off some of the wider abilities of the band. Half of the tracks were written by Anders Umegàrd and the other half are covers. There are the frantic high-speed rockers and rock 'n' roll / rockabilly tracks, but there are also a couple of rhythm & blues numbers, and in between, some influences of early surf music can be detected.
This band has topped the Swedish radio charts on several occasions and stands out as one of the most fresh and original bands of this genre in Sweden today. Their main trademark is Anders' intense style of piano playing, something you got to witness. This, along with Hakan's unpredictable style of sax playing, and the virtuosic guitar playing technique of Jan make this band definitely worthwhile listening to. Black Cat Rockabilly
The title of this album is humorous and ironic. The true fact is that this gang is not only cool, they also have a complete knowledge of the history of American roots music. Hakan Landsberg is one of the guys who understand how important the saxophone is when it comes to this type of roots-rock'n'roll. It is also essential to know how to swing. That is something this band really knows well. They seem to underline that "roll" is essential when it comes to "rock". If you check the influences of this band, you can be sure that they have several worn-out copies of Big Joe Turner, Smiley Lewis, Louis Prima and Larry Williams in their record collections.
Most of the tracks are self-writte, al though they could very well have been written in the 1950's USA. But if you chose such an obscure classic from the Gene Vincent reportoire like Hold Me, Hug Me rock Me, composed during Gene's third recording session in Nashville, october 1956 - then you have pretty good knowledge of the history of American music. It is also a very long time since I heard such a fantastic version of Elmore James classic It Hurts Me Too.
Keep it up boys, you are definitely on the right track! This band must not only be heard on CD, on a live show there are really outstanding. www.musiklandet.se
The Unkool Hillbillies comes with their second CD, recorded in January this year [2005] in Garaget Studio in Stockholm. The style is similar to the rock'n'roll side of Jerry Lee Lewis with a mix of blues and rock'n'roll, with a genuine 50's style. Seven songs are written by Anders Umegård, bandleader and singer/pianist. Also participating is Richard Andersson (harmonica/vocals Claes Carlberg (bass/vocals), Jan sjöberg (guitar/vocals), Hakan Landsberg (sax) and Jasenko Kumric (drums). The music of this band is described as "unkool", and why not - it really rocks. American Music Magazine
We've played this band in our CD player several times before, but on this new CD half of the band members are new. The Unkool Hillbillies claims that they do not play in a traditional way, but if you'd expect something completely modern, you wrong. This Swedes play in the traditional 50's rock'n'roll, but nevertheless, they manages to lift the transfer bring style of music into a dimension.
These obscore hillbillies, who are known for their explicit rock'n'roll, manages to build up a quite massive sound, many thanks for the varierity of instruments. From guitar and piano, to saxophone and harmonica. The music is energetic, and sometimes much wilder than on the previous CD, "Right To Rumble". A big portion of their music reminds of Freddie "Fingers" Lee and similar. Much of this is, of course, because of the piano. Just listen to the original song "You're The One" (here with saxophone solo), but also to the very surprising Gene Vincent cover "Hold Me, Hug Me, Rock Me" or the instrumental "Rooster Shaking Boogie", that originated under a session coffee break.
These rock'n'roll musicians.....really work hard! Sometimes they bring the pace down, but nevertheless still energetic with the rolling "Dirty", or through a bluesy rock'n'roll like "It Hurts Me Too". One the other hand is the tempo of "One More Time" so wild, that it is finished already in one and a half minute.
According the press release, this is a band with extremely high variations. But when it comes to this CD, we would ask for even more variations to fulfill that criteria, even though the variations of instruments. This is however just a minor detail. Instead we salute: "Yep, this is what rock'n'roll is all about"! Boppin Around
On their second CD, The Unkool Hillbillies delivers rockabilly spiced with some blues. I declare that I like rockabilly, but I ust confess that I know nothing about the genre, there has never been a possibility [for me] to study it deeply. What you can declare, and compliment, is that this CD consist of mostly original material of high quality along with some well-chosen covers. It is mostly uptempo, and it rocks well. Extra credit to pianist and singer Anders Umegard, and then specifically for the pianoplaying, al though there is nothing wrong with the singing. All in all, things are great on this CD, the only thing I would ask for is a little bit more of live-feeling on the sound, I would not mind a slighly dirtier sound.
I must also mention their original number Rap is Crap, a very good text and extremely fun song. This song alone is enough to by this CD. Bluesbullen
The grooviest CD of the year. Great instrumentalists, great singers, great original songs, great covers! Mix of r'n'r, blues, R&B and hillbilly. Smokestack Newsletter 2006/1
---